Engineering a Career Path
Not many programs allow students to hear from speakers that have been in outer space. That elite distinction translates to a reservoir of knowledge, one that Al Sacco has grown accustomed to sharing.
The former NASA Astronaut, who can lay claim to being the first chemical engineering professor in space, recently spoke at a middle school outreach program in Arlington Heights. Grove Junior High students were among those in attendance.
The ability to share experiences with some of the most accomplished members of this particular field is just one of the opportunities that are at the fingertips of these young learners.
Did you know that engineering is a rapidly growing career field? According to the U.S. Bureau of Labor Statistics, 140,000 new jobs are expected for engineers over the 2016–2026 decade, and in 2016, engineers had a median annual wage of $91,010—more than twice that of all other workers.
Grove Junior High School has also seen growth in the number of students interested in this career path, and the school is working hard to provide them with opportunities to learn about the engineering field as early as possible.
"With the development of the Elk Grove Technology Park around the corner, we know the engineering demands of the future. Jobs will be right here in Elk Grove, which is very exciting. When students can explore engineering at an earlier age and take more courses, it sets them up for a better opportunity in their future."

– Patrick McGing
Junior High
At the junior high school level, one option is for students to take Project Lead the Way (PLTW) electives. These classes are STEM-based (Science, Technology, Engineering, Math) with a strong focus on engineering. At Grove, classes at each grade level offer a variety of experiences in engineering which incorporate STEM into each activity and project. Sixth-grade groups focus on energy and environment where they work as wind turbine designers and engineers. Seventh and eighth grade groups alternate projects between automation/robotics and design/modeling, where exercises include engineering toys.

"Parents comment about how they wish they would have had the opportunity to take a PLTW class themselves or what a great experience it is for their son or daughter," said Dan Prickett, who teaches PLTW classes at Grove.
The Engineering Club is another onsite option at Grove and an extension of PLTW. Prickett spearheads the club to expand on what the students have already learned. Students are afforded the opportunity to vote on upcoming projects.  Automation and robotics are the focus for this year. Activities will be centered around heat transfer, the four forces of rocketry (lift, thrust, gravity, and drag) and vex robotics. Students get hands-on experience with metal building parts, screws, programmable motors, sensors, lights, wheels, and other building components.
Students who cannot fit PLTW into their class schedule can still participate in the Engineering Club as a means to explore their interest in the field. While the club typically meets after school on Monday, Prickett has made it a point to be flexible with scheduling to allow those in sports or other programs to attend.
"I make it very clear at our first meeting of the year that this is a working club," said Prickett. "The majority of them understand my expectation and go above and beyond."
The club is based around the principle that exposure to engineering at the junior high school level is incredibly valuable. Students are able to evaluate their enjoyment of the PLTW and Engineering Club experiences and make educated decisions when choosing high school classes.
"The more they get to experience in junior high, the better prepared they are to take classes in high school that will fit into their future career path," he says. "They say that these experiences prepared them for the expectations that their high school teachers have for them in class."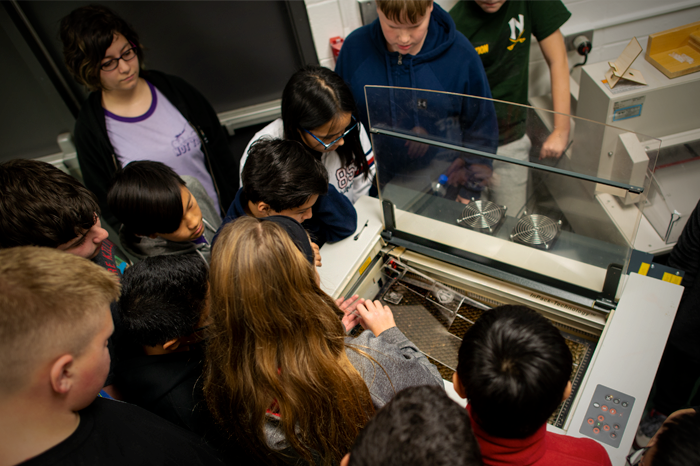 High School
Elk Grove High School partners with CCSD59 to offer junior high students the Next Generation of Engineers (NGE), an opportunity for junior high students who will attend EGHS to explore its course offerings in the engineering field.
NGE meets once a week on Mondays at EGHS from 3:15-6:00 pm.
The program offers students exposure to engineering principles, tools, concepts, and techniques such as technical sketching, 3D modeling software, 3D printing, and laser cutting/engraving.
"The incredible thing is we have sixth graders learning how to use this equipment at the same time that a senior in high school might be," said Patrick McGing, PLTW Instructor at EGHS. "Hopefully instilling a great sense of creativity and exploration in the career fields at a much younger age and bringing that knowledge back to their home school and, later, high school."
McGing says there are many offerings at EGHS for students interested in a career path in the engineering field. If junior high students are already aware of their interest, it helps the students navigate their expansive course selection at EGHS.
Both CCSD59 and D214 have consistently supported the NGE program, according to McGing, and continuing to share the information helps programs such as this thrive.
According to Prickett, the interest in the program is at an all-time high with 60 students signed up to participate.
Former NASA Astronaut Al Sacco speaks to junior high students in Arlington Heights.
Outside the Classroom
As an additional choice, students interested in becoming engineers are being given the chance to learn more about what the working world looks like via career days.
On Friday, October 26, students attended the Manufacturing Day event at Toshiba Machine, thanks to a Grove parent who offered to arrange it. Approximately 90 students participated, and the opportunity allowed them to connect real-world math and science concepts while touring the machinery, robotics, and plastics lab.
"We are hoping to continue offering these types of field trips and opportunities to students continually throughout the school year," said Amanda Pavela, the school counselor at Grove Junior High.
The annual Middle School Outreach Program sponsored by Honeywell UOP and the American Institute of Chemical Engineers (AICHE) also saw Grove attend on November 5 at the Forest View Educational Center. This one-day, free event is designed to expose students to chemical and other engineering professions while interacting with industry professionals. Sacco was among the keynote speakers that students were able to meet. 
They were also presented with current topics of interest, from general engineering practices to developments in green energy projects. The program also included interactive games and an open panel discussion.
Whether students chose to participate in just one or many of these opportunities, they benefit from learning more about their interests in engineering and what opportunities the future may present- even locally.
"With the development of the Elk Grove Technology Park around the corner, we know the engineering demands of the future," said McGing. "Jobs will be right here in Elk Grove, which is very exciting. When students can explore engineering at an earlier age and take more courses, it sets them up for a better opportunity in their future."