Una trayectoria profesional a la Ingeniería
No muchos programas permiten que los estudiantes escuchen a oradores que han estado en el espacio exterior. Esa distinción de élite se traduce en una reserva de conocimiento, una que Al Sacco se ha acostumbrado a compartir.
El ex astronauta de la NASA, que puede presumir de ser el primer profesor de ingeniería química en el espacio, habló recientemente en un programa de extensión de escuelas presecundarias en Arlington Heights. Los estudiantes de Grove Junior High estuvieron entre los asistentes.
La capacidad de compartir experiencias con algunos de los miembros más destacados de este campo en particular es solo una de las oportunidades que están al alcance de estos jóvenes aprendices.
¿Sabía que la ingeniería es un campo profesional en rápido crecimiento? Según la Oficina de Estadísticas Laborales de EE.UU. (U.S. Bureau of Labor Statistics), Se esperan 140,000 nuevos puestos de trabajo para los ingenieros durante la década 2016-2026, y en 2016, los ingenieros tenían un salario medio anual de $91,010 — más del doble que el resto de los trabajadores.
Grove Junior High School también ha visto un crecimiento en el número de estudiantes interesados en esta trayectoria profesional, y la escuela está trabajando arduamente para brindarles oportunidades de aprender sobre el campo de la ingeniería lo antes posible.
"Con en desarollo del Parque Tecnológico de Elk Grove a la vuelta de la esquina, conocemos las demandas de ingeniería del futuro. "Los trabajos estarán justo aquí en Elk Grove, lo cual es muy emocionante. Cuando los estudiantes pueden explorar la ingeniería a una edad más temprana y tomar más cursos, los prepara para una mejor oportunidad en su futuro."

– Patrick McGing
PRESECUNDARIA
En el nivel de la escuela presecundaria, una opción es que los estudiantes tomen las electivas de Project Lead the Way (PLTW). Estas clases están basadas en STEM (Ciencia, Tecnología, Ingeniería, Matemáticas) con un fuerte enfoque en ingeniería. En Grove, las clases en cada nivel de grado ofrecen una variedad de experiencias en ingeniería que incorporan STEM en cada actividad y proyecto. Los grupos de sexto grado se centran en la energía y el medio ambiente donde trabajan como diseñadores e ingenieros de turbinas eólicas. Los grupos de séptimo y octavo grado alternan proyectos entre automatización/robótica y diseño/modelado, donde los ejercicios incluyen juguetes de ingeniería.
"Los padres comentan sobre cómo desearían haber tenido la oportunidad de tomar una clase de PLTW ellos mismos o la gran experiencia que ha tenido para su hijo o hija," dijo Dan Prickett, quien imparte clases de PLTW en Grove.
El Club de Ingeniería es otra opción in situ en Grove y una Extensión de PLTW. Prickett encabeza el club para ampliar lo que los estudiantes ya han aprendido. Los estudiantes tienen la oportunidad de votar sobre los próximos proyectos. La automatización y la robótica son el foco de este año. Las actividades se centrarán en la transferencia de calor, las cuatro fuerzas de la cohetería (elevación, empuje, gravedad y arrastre) y la robótica vex. Los estudiantes adquieren experiencia práctica con piezas metálicas de construcción, tornillos, motores programables, sensores, luces, ruedas y otros componentes de construcción.
Los estudiantes que no pueden encajar PLTW en su horario de clases todavía pueden participar en el Club de Ingeniería como un medio para explorar su interés en el campo. Si bien el club normalmente se reúne después de la escuela el lunes, Prickett se ha comprometido a ser flexible con la programación para permitir que asistan los que participan en deportes u otros programas.
"En nuestra primer reunión de año, dejé bien en claro que se trata de un club de trabajo," dijo Prickett. "La mayoría de ellos entienden mis expectativas y van más allá."
El club se basa en el principio de que la exposición a la ingeniería en el nivel de presecundaria es increíblemente valiosa. Los estudiantes pueden evaluar su disfrute de las experiencias de PLTW y del Club de Ingeniería y tomar decisiones informadas al elegir las clases de secundaria.
"Cuanto más tengan la experiencia en la presecundaria, mejor preparados estarán para tomar clases en la escuela secundaria que encajarán en su trayectoria profesional futura," dice. "Dicen que estas experiencias los prepararon para las expectativas que sus maestros de secundaria tienen para ellos en clase."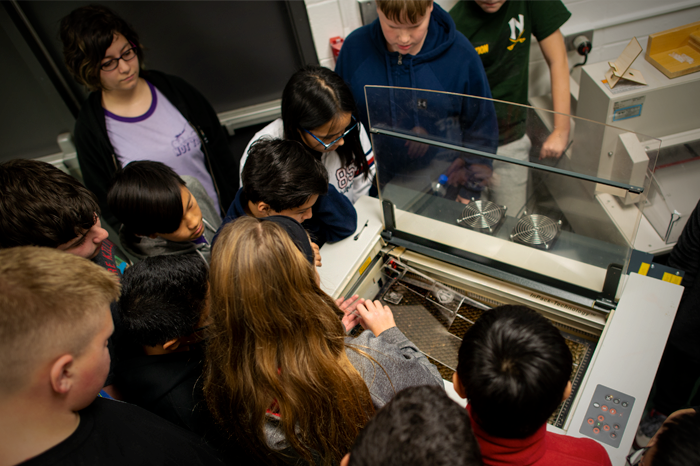 ESCUELA SECUNDARIA
Elk Grove High School se asocia con CCSD59 para ofrecer a los estudiantes de presecundaria la Next Generation of Engineers (NGE), una oportunidad para los estudiantes de presecundaria que asistirán a EGHS para explorar sus ofertas de cursos en el campo de la ingeniería.
NGE se reúne una vez a la semana los lunes en EGHS de 3:15-6:00 pm.
El programa ofrece a los estudiantes la exposición a los principios de ingeniería, herramientas, conceptos y técnicas tales como bocetos técnicos, software de modelado 3D, impresión 3D y corte/grabado de láser.
"Lo increíble es que tenemos estudiantes de sexto grado que aprenden a usar este equipo al mismo tiempo que podría ser un estudiante de último año de secundaria," dijo Patrick McGing, Instructor de PLTW en EGHS. "Esperamos que inculcar un gran sentido de la creatividad y la exploración en los campos de la carrera a una edad mucho más joven y con lo que el conocimiento de regreso a sus escuela y, más tarde, la escuela secundaria."
McGing dice que hay muchas ofertas en EGHS para estudiantes interesados en una carrera Ruta en el campo de la ingeniería. Si los estudiantes de secundaria ya están conscientes de su interés, ayuda a los estudiantes a navegar por su amplia selección de cursos en EGHS.
Tanto CCSD59 como D214 han apoyado sistemáticamente el programa NGE, según McGing, y continuar compartiendo la información ayuda a programas como este a prosperar.
Según Prickett, el interés en el programa está en su punto más alto con 60 estudiantes inscritos para participar.
El ex astronauta de la NASA Al Sacco habla a estudiantes de presecundaria en Arlington Heights.
FUERA DEL SALÓN
Como una opción adicional, los estudiantes interesados en convertirse en ingenieros tienen la oportunidad de aprender más sobre el aspecto del mundo laboral a través de los días de carrera.
El viernes 26 de octubre, los estudiantes asistieron al evento Manufacturing Day en Toshiba Machine, gracias a un padre de Grove que se ofreció a organizarlo. Aproximadamente 90 estudiantes participaron, y la oportunidad les permitió conectar conceptos matemáticos y cientificos del mundo real mientras recorrían el laboratorio de maquinaria, robótica y plásticos.
"Esperamos continuar ofreciendo este tipo de excurciones y oportunidades a los estudiantes continuamente a lo largo del año escolar," dijo Amanda Pavela, la consejera escolar de Grove Junior High.
El programa anual de extensión a la escuela secundaria patrocinado por Honeywell UOP y American Institute of Chemical Engineers (AICHE) también asistió a Grove el 5 de noviembre en Forest View Educational Center. Este evento gratuito de un día está diseñado para exponer a los estudiantes a las profesiones de química y otras ingenierías mientras interactúan con profesionales de la industria. Sacco fue uno de los oradores principales que los estudiantes pudieron conocer.
También se les presentaron temas de interés actuales, desde prácticas generales de ingeniería hasta desarrollos en proyectos de energía verde. El programa también incluyó juegos interactivos y un panel de discusión abierto.
Ya sea que los estudiantes elijan participar en solo una o muchas de estas oportunidades, se benefician al aprender más sobre sus intereses en ingeniería y qué oportunidades puede presentar el futuro, incluso a nivel local.
"Con en desarollo del Parque Tecnológico de Elk Grove a la vuelta de la esquina, conocemos las demandas de ingeniería del futuro," dijo McGing. "Los trabajos estarán justo aquí en Elk Grove, lo cual es muy emocionante."Cuando los estudiantes pueden explorar la ingeniería a una edad más temprana y tomar más cursos, los prepara para una mejor oportunidad en su futuro."