Projektowanie ścieżki kariery
Niewiele programów daje uczniom możliwość wysłuchania kogoś, kto przebywał w przestrzeni kosmicznej. To elitarne wyróżnienie przekłada się na ogrom wiedzy, do dzielenia się którą Al Sacco przyzwyczaił się dawno temu.
Były astronauta NASA, który ma prawo twierdzić, że był i jest pierwszym profesorem inżynierii chemicznej w kosmosie, miał niedawno okazję zabrać głos podczas programu szkolnego w Arlington Heights. Wśród uczestników byli także uczniowie Grove Junior High.
Możliwość dzielenia się doświadczeniami z jednym z najznakomitszych przedstawicieli tej konkretnej dziedziny to tylko jedna z możliwości, które znajdują się na wyciągnięcie ręki tych młodych słuchaczy.
Czy wiesz, że inżynieria to szybko rozwijająca się dziedzina na polu zawodowym? Według U.S. Bureau of Labor Statistics, czyli amerykańskiego biura statystyk dot. pracy, oczekuje się, że w latach 2016-2026 będziemy mieć 140,000 nowych miejsc pracy dla inżynierów i że w 2016 roku przeciętna płaca roczna inżyniera wynosiła 91,010 $ – ponad dwukrotnie więcej, niż w przypadku innych pracowników.
Grove Junior High School odnotowała również wzrost liczby uczniów zainteresowanych tą ścieżką kariery, a szkoła wytrwale pracuje, aby dać im szansę poznania dziedziny inżynierii tak wcześnie, jak to tylko możliwe.
"Wraz z rozwojem parku technologicznego Elk Grove Technology Park, już wkrótce poznamy wymagania inżynieryjne przyszłości. Praca będzie tutaj, w Elk Grove, co jest bardzo ekscytujące. Kiedy uczniowie mają szansę odkrywać inżynierię w młodszym wieku oraz uczestniczą w szkole w coraz liczniejszych zajęciach, które jej dotyczą, dają sobie lepsze możliwości na przyszłość."

– Patrick McGing
GIMNAZJUM
Jedną z opcji na poziomie gimnazjalnym jest umożliwienie uczniom uczestniczenia w zajęciach Project Lead the Way. Klasy te są oparte na koncepcji STEM (nauka, technologia, inżynieria, matematyka), z silnym naciskiem na inżynierię. W Grove zajęcia na każdym poziomie zaawansowania oferują różnorodne doświadczenia w inżynierii, które włączają STEM do każdego działania i projektu. Grupy złożone z szóstoklasistów koncentrują się na źródłach energii i środowisku, w którym pracują jako projektanci i inżynierowie, zajmując się turbinami wiatrowymi. Grupy z klas siódmej i ósmej alternatywnie pracują nad projektami między automatyzacją/robotyką a projektowaniem/modelowaniem, a zajęcia obejmują budowanie zabawek.
"Rodzice wyrazili opinię, że chcieliby mieć możliwość wzięcia udziału w klasie PLTW i że te zajęcia są wspaniałym doświadczeniem dla ich syna lub córki" – powiedział Dan Prickett, który prowadzi zajęcia lekcyjne PLTW w Grove.
Kolejna dostępna opcja w Grove to Engineering Club (Klub Inżynierów) i rozszerzenie programu PLTW. Dan Prickett, czuwający nad klubem, głowi się, jak rozwinąć to, czego uczniowie nauczyli się wcześniej. Uczniowie mają możliwość wyboru kolejnych projektów drogą głosowania. W tym roku koncentrujemy się na automatyzacji i robotyzacji. Działania będą się koncentrować wokół przenoszenia ciepła, czterech sił rakietowych (siła nośna, siła ciągu, siła ciężkości i opór) oraz robotyki vex (budowanie robota). Uczniowie mają już za sobą praktyczne doświadczenie z metalowymi częściami budynku, śrubami, programowalnymi silnikami, czujnikami, światłami, kołami i innymi elementami budynku.
Uczniowie, którzy nie mogą włączyć zajęć PLTW do swojego harmonogramu, mogą jednak uczestniczyć w Klubie Inżynierów, aby poznać tę dziedzinę lub rozwijać swoje zainteresowania wokół niej. Mimo że klub zazwyczaj spotyka się w poniedziałek po szkole, Dan Prickett założył dużą elastyczność przy planowaniu zajęć, aby umożliwić uczniom uczestnictwo także w zajęciach sportowych lub innych programach.
"Na pierwszym spotkaniu w tym roku bardzo wyraźnie podkreśliłem, że jest to klub roboczy" – powiedział Dan Prickett. "Większość z uczniów rozumie moje oczekiwania i wykracza poza nie".
Klub opiera się na założeniu, że wysuwanie na plan pierwszy inżynierii już na poziomie gimnazjalnym jest niezwykle cenne. Uczniowie są w stanie ocenić swoje zadowolenie z zajęć PLTW i w Engineering Club i podejmować przemyślane decyzje przy wyborze przedmiotów w liceum.
"Im więcej doświadczeń zdobędą w gimnazjum, tym lepiej przygotowują się do wyboru przedmiotów w liceum, które będą przystawały do ich przyszłej ścieżki kariery zawodowej". – powiedział. "Uczniowie mówią, że te doświadczenia przygotowały ich do oczekiwań, jakie mają ich nauczyciele w klasach licealnych".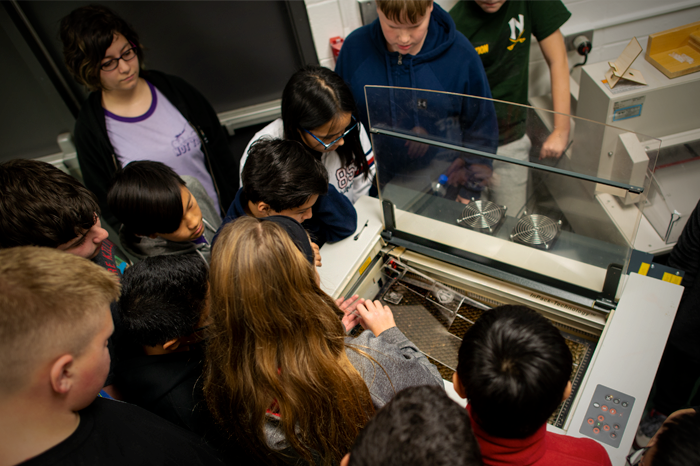 LICEUM
Elk Grove High School współpracuje z CCSD59, aby zaoferować młodszym uczniom program Next Generation of Engineers (NGE; program dla 'następnego pokolenia inżynierów'), szansę dla uczniów szkół gimnazjalnych, którzy pewnego dnia będą uczęszczać do EGHS, aby zapoznali się z oferowanymi zajęciami w dziedzinie inżynierii.
NGE spotyka się raz w tygodniu, w poniedziałki, w EGHS, w godzinach 3:15-6:00 po południu.
Program oferuje uczniom wprowadzenie do inżynierii, narzędzi, koncepcji i technik, takich jak rysunek techniczny, oprogramowanie do modelowania 3D, drukowanie 3D oraz cięcie/grawerowanie laserowe.
"Niesamowitą rzeczą jest to, że mamy szóstoklasistów uczących się, jak korzystać z danego sprzętu w tym samym czasie, w którym robi to uczeń czwartej klasy szkoły średniej" – powiedział Patrick McGing, instruktor PLTW w EGHS. "Mam nadzieję, że zaszczepienie w młodszym wieku zainteresowania konkretną dziedziną ma ogromne znaczenie w zakresie kreatywności i prowadzenia badań, a wiedza ta wraca do ich szkoły macierzystej, a później przydaje się w liceum".
McGing mówi, że w EGHS jest wiele ofert dla uczniów zainteresowanych drogą kariery w dziedzinie inżynierii. Jeśli uczniowie szkół gimnazjalnych są świadomi swoich zainteresowań, pomaga to im poruszać się po bardzo rozległym programie zajęć w EGHS.
Zarówno CCSD59, jak i D214 konsekwentnie wspierały program NGE zgodnie z tym, co powiedział McGing, a dalsze dzielenie się informacją o programie pomaga takim jak program, o którym mowa, dobrze się rozwijać.
Według pana Prickett, zainteresowanie programem jest bardzo duże, a do udziału w nim zgłosiło się 60 uczniów.
Były astronauta NASA Al Sacco przemawia do uczniów gimnazjum w Arlington Heights.
POZA KLASĄ LEKCYJNĄ
Dodatkowym wyborem dla uczniów zainteresowanych zostaniem inżynierami jest szansa dowiedzenia się więcej o tym, jak wygląda świat w miejscu pracy podczas trwania kariery zawodowej.
W piątek, 26 października, dzięki rodzicowi z Grove, który zaproponował zorganizowanie wycieczki, uczniowie wzięli udział w wydarzeniu Manufacturing Day w Toshiba Machine. Uczestniczyło w nim około 90 uczniów, którzy dzięki zwiedzaniu zakładu pracy pełnego maszyn, robotyki i – laboratorium tworzyw sztucznych, mogli odkryć związek między koncepcjami matematycznymi i naukowymi a realnym światem produkcji.
"Mamy nadzieję, że nadal będziemy oferować tego typu wyjazdy w teren i dostarczać takich doświadczeń uczniom przez cały rok szkolny" – powiedziała Amanda Pavela, doradca szkolny w Grove Junior High.
Coroczny program Middle School Outreach Program dla szkół gimnazjalnych sponsorowany przez Honeywell UOP i Institute of Chemical Engineers (AICHE) sprawił również, że uczniowie z Grove pojawili się 5 listopada w Centrum Edukacyjnym Forest View. To jednodniowe bezpłatne spotkanie ma na celu pokazanie uczniom zawodów związanych z chemią i innych zawodów inżynierskich podczas bezpośredniego kontaktu z profesjonalistami z tej właśnie branży. Sacco był jednym z głównych prelegentów, z którymi uczniowie mogli się spotkać.
Przedstawiono także aktualne tematy, poczynając od ogólnych praktyk inżynieryjnych, na projektach dotyczących zielonej energii kończąc. W programie znalazły się także interaktywne gry i otwarta dyskusja panelowa.
Niezależnie od tego, czy uczniowie zdecydują się wziąć udział w jednej czy wielu z tych ofert, czerpią oni korzyści z dowiadywania się o swoich zainteresowaniach inżynierią i możliwościach, jakie może przynieść przyszłość – nawet lokalnie.
"Wraz z rozwojem parku technologicznego Elk Grove Technology Park, już wkrótce poznamy wymagania inżynieryjne przyszłości" – powiedział McGing. "Praca będzie tutaj, w Elk Grove, co jest bardzo ekscytujące. Kiedy uczniowie mają szansę odkrywać inżynierię w młodszym wieku oraz uczestniczą w szkole w coraz liczniejszych zajęciach, które jej dotyczą, dają sobie lepsze możliwości na przyszłość".