Grove Daily Announcements
June 9, 2017
Today is ZERO DAY. Hope everyone had a great time with these End Of the Year Countdown activities. Zero days left! When you are dismissed today to start you summer break, be safe and careful!
6th and 7th graders: are you interested in any of the following clubs or sports:
Football                                  Track and Field                                 Water Polo
Golf                                         Gymnastics                                         Volleyball
Swimming                                 Soccer                                               Wrestling
  Tennis                                  Dance Team                                         Baseball
Softball                                   Orchesis                                             Badminton
Bowling                                     Basketball                                      Cross Country
Co-Ed Cheerleading
If you're interested in any of these sports you will need a parent to contact the coach as soon as possible, because many sports start as soon as next week.
Have a great summer vacation! See you in August!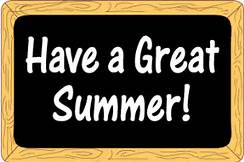 MAKE IT A GREAT DAY, GROVE!!!