Grove Expands Courtyard Dedication to Honor District Family
Having 65 years worth of service to a school district in a single family is a remarkable feat. Several members of the CCSD59 administration feel the same way and have found a suitable avenue to honor that hard work. 
There is a courtyard at Grove Junior High that has long been named after Gerald Tvrdy, who served as an assistant principal at the school in the 1960s. In recent years, John Harrington, current principal at Grove, has wanted to make the area a special learning environment for students. 
"We want to create a space where classes could meet outside and students could eat," said Harrington. "When we first presented the idea several years ago, it became an interdisciplinary project for students. Architects would visit regularly to help students create a layout for future additions."
Efforts to continue with those upgrades have picked up over the last year with the addition of a pergola by the east entrance. This addition happens to coincide with the final year at CCSD59 for Gerald's son, Greg Tvrdy, who has worked in the Facilities and Operations department for 35 years. 
Gerald tragically passed away when Greg was still young, but the impact Gerald left on the school can still be seen today. An outgoing Grove student receives an award named for Gerald Tvrdy at graduation each year, while his name can still be found on the walls of the school itself.
"Very early on when I started here, Greg showed me the plaque with his father's name on it at the courtyard," said Harrington. "Any time Greg is here, he lightens things up, so I always enjoy his visits."
With the help of Albert Tijerina, Director of Facilities and Operations at CCSD59, it was decided that this would be an opportunity to not just honor Gerald, but the entire Tvrdy family.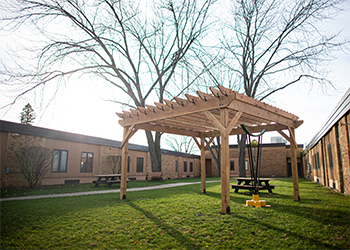 "As I came to understand what (Greg's) father did at Grove, how long his mother had served the school and district, and how many years Greg himself had put in, I talked with Mr. Harrington about doing something special," said Tijerina. "The concept and design were already there, but we thought it would be fitting to continue to upgrade and beautify the courtyard with his family's history in mind."
Before Thanksgiving Break, staff members from Grove and the Facilities and Operations department revealed the new dedication to Greg, which not only featured his and Gerald's names, but also his mother, Loretta, who spent an additional 24 years in the district.
"Our idea was to expand the dedication of this courtyard beyond Greg's father, so the courtyard will be known from now on as the Tvrdy Family Courtyard," Harrington said at the unveiling. "I was excited to hear (Albert) say this was possible and I know this will be here for many years to come." 
The area underneath the pergola also features a sculpture that Loretta donated to the district many years ago. While it had been worn down over time, Ryan Goodrich, Head Custodian at Grove, recently restored the piece with a fresh coat of paint to match the school's colors. 
Now, both structures can be appreciated by students and staff alike when classes resume in the courtyard. The effort is a fitting nod to a family that has given more than a half century to the district while looking towards the future and providing a unique atmosphere for students. 
"I thank everyone from the bottom of my heart and my family's hearts," said Greg. "Working here and going into this school building, people would tell me stories about my dad, and that's how I got to know him. My mother raised six kids, me being the youngest, and I know she will appreciate this as much as I do."
Staff at Grove hope to continue upgrades to the courtyard in the future, including adding more teaching and patio areas, a fountain, and new vegetation.