Junior High students creating new bonds while producing first virtual musical
There is a rush that comes with opening night for any actor or member of a stage production. After months of preparation, rehearsals, castings, and getting costumes just right, the hours leading up to curtain time can be a blur of butterflies. 
These moments have been few or far between over the last year as circumstances have kept many schools from holding musicals or plays. For students accustomed to these performances being a part of their normal school year, it's been a long time to wait. 
"I have been doing theater since I was five years old, so this is very different because you've missed being backstage, the feeling of microphone tape being ripped off, and the pounds of makeup that you have on," said Natalia, an eighth grade student at Grove Junior High. 
Now, a group of CCSD59 students and staff members will experience a new rush next week. Classes at Friendship, Grove, and Holmes Junior High are working together on an unprecedented feat in the district: producing the first virtual musical across CCSD59. The group chose "The Little Mermaid Jr." because of its appeal to all student ages and the belief it would transfer well to a virtual setting. It also features a large amount of important roles, allowing students from each school to receive plenty of stage time.
It is true that many elements of the process have been similar to preparing for a traditional performance, but when you take a closer look at the logistics, the amount of necessary work becomes clear. 
"I am normally able to have the entire rehearsal process somewhat planned out at the beginning, but for this, we were taking it about two weeks at a time, adjusting to what we were learning as we went," said Jessica Zolmierski, music/choir teacher at Friendship. "We had to do an immense amount of preparation for rehearsals, including creating practice tracks and dance videos that we could broadcast over Zoom."
Staff members knew they wanted to use every resource available to put together a production this year after the COVID-19 pandemic prevented one from being held during the 2019-20 school year. Mrs. Zolmierski teamed with Heather Wietrecki at Grove and Jesus Reyes at Holmes to begin planning, and it quickly became apparent how unique this project would be. 
"As directors, we are normally each used to leading our own production, so it was a lot of fun to collaborate with the other directors and play off each other's strengths while learning from one another. We divided up the instruction – I focused on choreography and movement, Mr. Reyes and Ms. Wietrecki focused on the music, and we all shared the acting."
Fortunately, there was no shortage of eager students to cast for the production. Still, with only a handful of them participating in classes in person, all rehearsals took place over Zoom. There was an early learning curve as Internet signals and delays came into play, a tough element when asking students to choreograph and synchronize voices.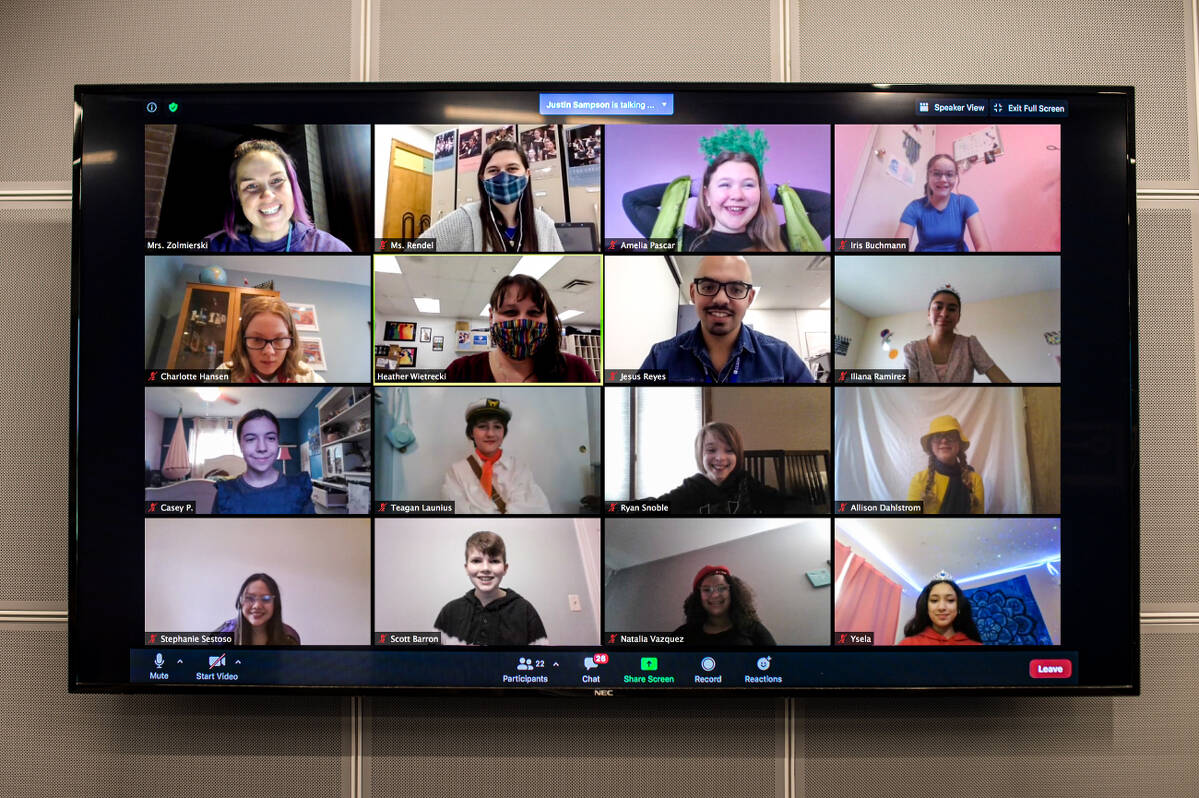 Casey, a seventh grade student at Holmes, showed early interest in getting involved in the project after the musical she joined last year got cut short. She also quickly saw how this would not be like her past experiences. 
"You had to be a lot more responsible so that you got to rehearsals on time and you had to be able to manage your time so that you got all the recordings done for your different parts," she said. "There is this extra level of difficulty with not being in the same room as your fellow actors where you can usually react to their actions better, but it is nice to be able to space out your work and redo if you make a mistake while acting or singing."
Students were responsible for recording each of their parts at home and did their best to show the same emotion in an empty room as they would among cast mates in a live performance. That meant a barrage of files to keep track of, review, request retakes for, and send to an editor. Mrs. Zolmierski said she spent six hours downloading files one evening. 
Yet, even through a lens, the cast has been able to connect on a new level. Students have grown increasingly excited about pulling off something that has never been done before in CCSD59.
"You don't get to hang out with a cast like you normally would. It's almost like a solo musical when you're recording," said Allison, an eighth grade student at Grove. "But I know it's going to be good because we're going to kind of be a part of history. Sure, many people and groups have done this before during the pandemic, but we'll probably not get many chances to do this in the far future. It's cool that we're leaving behind a little legacy at each of our schools."
"it's cool that we're leaving behind a little legacy at each of our schools."
-Allison, Grove Student
Both students and staff members agree that getting to know people from other buildings has been among their favorite aspects of the process, and it has given rehearsals an overwhelming sense of fun. 
"We usually can't stop laughing at how funny it is to be a completely different person with different personalities while acting," said Leslie, a seventh grade student at Friendship. "The moment you realize that you've gotten a new family just by talking, not necessarily in person, but still socializing with one another is really something indescribable. It has been amazing to see how something that seemed hard became something creative and achievable with hard work!"
Now that in-person classes have recorded their music and the individual actor lines are in, the final stretch leading up to the premiere is unusually calm. It has been necessary to have students show-ready for several weeks as separate parts are recorded, so the routine push to prepare everything is suddenly gone. As classes wait to see the finished product, all they can do is get ready to view their work with a new perspective. 
"All of us now get to experience the show like an audience member seeing it for the first time," said Mrs. Zolmierski. "The actors have not even seen or heard each others' recordings, so the live stream will be the first time those who helped create the show get to see it!"
"The Little Mermaid Jr." will premiere on Thursday, May 13, at 7:00 p.m. Virtual tickets for the show go on sale Thursday, April 29, and will be available to all CCSD59 families. To purchase them and for more information, visit the show site here.